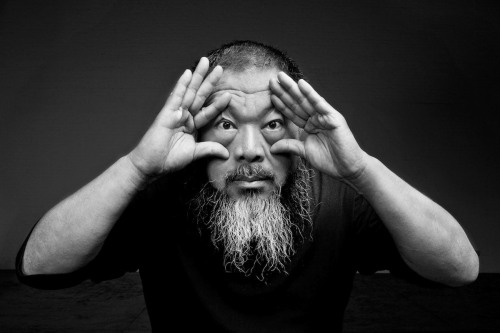 Ai Weiwei was born in Beijing, China, in 1957. Ai is an artist, activist, architect, curator, and filmmaker. He works across mediums of sculpture, installations, architecture, photography, and video. Ai's works are often conceptual in nature and create a dialogue between the contemporary world and traditional Chinese modes of thought and production.
For Sunflower Seeds (2010) at the Tate Modern, he scattered 100 million porcelain "seeds" handpainted by 1,600 Chinese artisans—a commentary on mass consumption and the loss of individuality. His early works, such as Coca Cola Vase (1994) and a series of middle-finger salutes to sites of power, Study of Perspective (1995), are both discourses on authority.
Ai is an advocate for freedom of speech and human rights. In recent years, he has made several documentaries on social, economical, and political issues. In his documentary Human Flow (2017), he focuses upon the refugee crisis and forced migration on a global level. His most recent documentary, Coronation (2020), recorded events in the city of Wuhan where the outbreak of COVID-19 first started.
Ai's major solo exhibitions include K20/K21, Düsseldorf, Germany (2019); OCA, São Paulo, Brazil (2018); Public Art Fund, New York, NY, USA (2017); Israel Museum, Jerusalem (2017); Brooklyn Museum, New York, NY, USA (2014); Taipei Fine Arts Museum, Taiwan (2011). He was a recipient of the Václav Havel Prize for Creative Dissent in 2012 for his work on Human Rights.
Ai currently lives and works in Portugal.