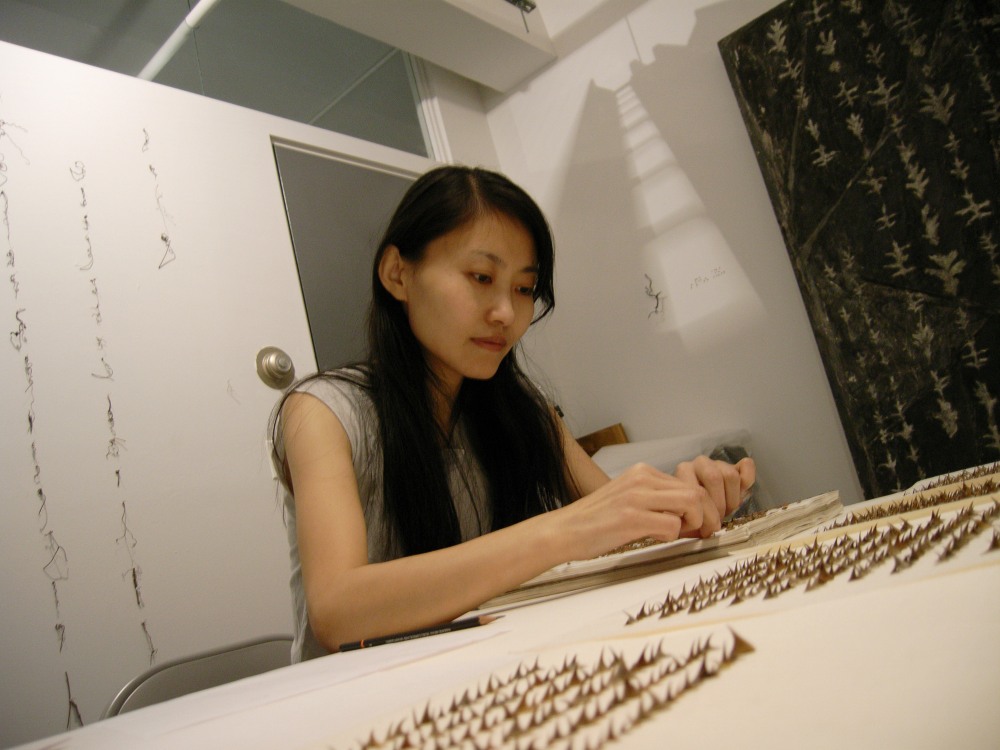 Cui Fei was born in Jinan, China, in 1970. She received her MFA in painting at Indiana University of Pennsylvania, and her BFA degree from China Academy of Arts. In 1996, she moved to the United States and settled in New York, where she changed her main medium of choice for expressing her thoughts from brushes and paints to materials collected in nature, such as vine branches, tendrils, and thorns.
Cui Fei is deeply influenced by Chinese traditional culture and thought. She is particularly inspired by the irreplaceable role of calligraphy in Chinese history, and refers to this in many of her series. In her Manuscript of Nature series, Cui Fei pieces together, arranges, and fixes grape vine tendrils on archival board, or sometimes directly on a wall. When viewed from a distance, the pieces resemble traditional Chinese cursive script, but when viewed up close, it is impossible to read; the vine tendrils naturally seem to mimic characters, but in fact grow into this shape at random, infusing Cui's work with a sense of zen-like spontaneity. The audience may have their own interpretation, but according to the artist: "I wanted to catch something unchanged within ubiquitous changes, and I did find something in the order of nature. The order of nature is constant, and is suitable for both east and west. It comes from ancient times, exists in the contemporary, and will remain for the future".
Cui Fei's works have been exhibited internationally, including New Britain Museum of American Art, The Aldrich Contemporary Art Museum, Museum of Chinese in America, Museum of Rietberg, and Museum for East-Asian Arts. Her works are in the collections of Princeton University Art Museum, China Academy of Art, Omi International Arts Center.
Cui Fei currently lives and works in New York, US.