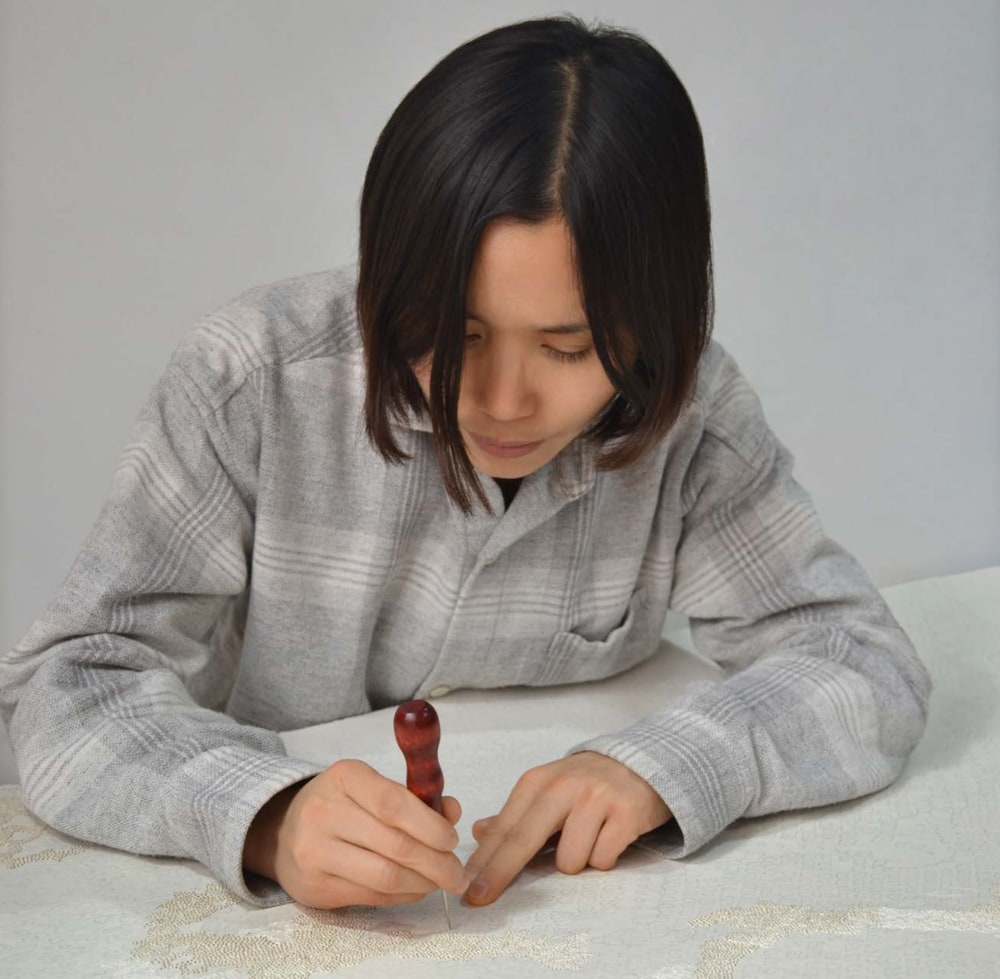 Fu Xiaotong was born in Shanxi, China, in 1976. She graduated from Tianjin Academy of Fine Arts in 2000 and then received a master's degree from the Experimental Art Institute of the Central Academy of Fine Arts. Fu Xiaotong's works are mainly divided into two categories: works on paper and three-dimensional installation art. Her works aim to present the essence of materials and develop a contemporary interpretation of traditional Chinese culture in a unique visual language.
Fu Xiaotong's works on paper use handmade Xuan paper as the main creative medium, and she uses needles to pierce the paper in an intensive process. These pinholes in different directions accumulate day by day until they slowly show images of mountains and stormy waves. According to the artist: "In the process of researching material language, I learned to pay attention to the performance and meaning of the material itself. Usually, the pen and ink conceal the beauty of the paper, and the touch of the material itself makes the paper come alive and present itself. The form is what I want to pursue. Instead of drawing or writing on paper, I use needles to pierce holes. In this way, I can avoid getting stuck in the original cultural attributes of rice paper and explore the possibility of a new material language."
In her recent works, Fu Xiaotong's technique has evolved beyond the figurative realm. Abandoning her previous method of pricking needles from different directions on paper according to a pre-made composition, she has been exploring a more abstract visual language, yet one that is still inspired by nature and natural forms including cellular structures, coral reefs, and animal skin patterns. The more nuanced form of expression allows her to compose her works more freely across the paper, and various new techniques allow her to experiment with sculptural effects in her work.
Fu Xiaotong has participated in exhibitions including Shanghai M21 Minsheng Art Museum "Multiverse" (2014), Beijing Minsheng Art Museum "Chinese Contemporary Art Yearbook Exhibition" (2016), and Shanghai Exhibition Center "Art 021" (2017). Her works are in the collections of the Fidelity Investment Art Collection, the Herbert F. Johnson Art Museum at Cornell University, and the Los Angeles County Museum of Art.
Fu currently lives and works in Beijing, China.